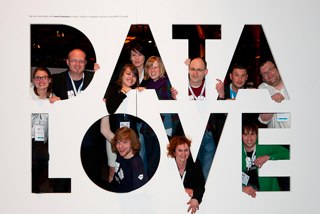 Facing the risk of not being paid for it next year any longer, I have to admit that working as NEXT Blogger (the guy who is looking after the bloggers at NEXT conference) is by any doubt one of the best jobs I ever had.
There are two main reasons for that: Firstly the NEXT11 has been a great conference experience. The Station with its enormous space to build impressive session rooms and awesome networking spaces is – despite some minor downsides – the place to be for a conference like this.
The programme was more than inspiring although a few speakers again didn't meet the international standards.
And at last the audience was a marvellous mixture of international speakers, german authorities, young professionals a highly interested press people. That some decision makers were missing is a pity but foremost for themselves.
Secondly I had the pleasure to be the host of a tiny little blogging crowd including some cute bloggers from all over Europe. Although we made no obligations for anyone, nearly all of them exceeded our expectations. They not only were very active on Twitter, blogged a whole lot – live or not -, took videos and made inspiring interviews with some speakers, but also enhanced the international experience for many attendees by mixing up with the crowd.
My way to say, "Thank You, my dear Bloggers!", is to put them all into a long list below and link as many of their post a I can find. Hopefully I do not forget to many, but if so, please put them into the comments.
But before I start with that list, I have to say another "Thank you" to Tim Koch, who did a great job in managing a lot of the necessary stuff in the background and put at least much effort in that project as I did.
My Tiny Little Blogging Crowd (ordered by country // work in progress)
Sweden
Denmark
Italy
Spanien
United Kingdom
Adam Tinworth: Adam is the most amazing live blogger you can imagine. He is writing really cool texts while the sessions, takes one or more cool photos to add and seems to publish right away after the session. Find his at least 12 posts here.
Robin Grant
Romania
Adelina Peltea: Unfortunately I missed the chance to talk to Adelina personally. The reason may have been that she talked to so many other people through her camera ;). Have a look. Great stuff.
Poland
Austria
Karin Janner
Karin Schmollgruber
Greece
Serbia
Germany
André Paetzel
Carolin Neumann and Kirstin Marquard
Heike Bedrich: Questions and answers on PR Blogger (in German).
Lars Heidemann
Lea Weitekamp: She is of the visionary communications experts united as ambassadors of digital business at the German agency pr://ip. A colleague so to say. And an inspiring one, as you can see her at The Next Women.
Lydia Horn
Marco Ripanti
Markus Mayr: Next or now? Markus isn't sure (in German).
Patrick Breitenbach
Philip Banse
Regina Gschladt
Thomas Knüwer
Thomas Pfeiffer
Hopefully all of the bloggers who are mentioned here and are on twitter can be found in this list. More stuff about NEXT11 will be collected in a Posterous.